Center for Math and Science Education
Center for Math and Science Education

The University of Arkansas Center for Math and Science Education provides quality resources and materials to the home, private and public education community. CMASE is one of 11 mathematics and science centers on university and college campuses around the state.
The Arkansas NASA Educator Resource Center, located within CMASE, is the state's dissemination point for education materials provided by the National Aeronautics and Space Administration. Its resources and school/classroom presentations are free of charge.
The main objectives of both centers are to provide:
K-16 education outreach to the home, private and public Northwest Arkansas education community
Quality professional development for pre-service and in-service teachers at local, regional, state and national levels
Access points for dissemination of educational materials, resources and information
Links to common education allies throughout the state and nation
New: 2022 Checkout Process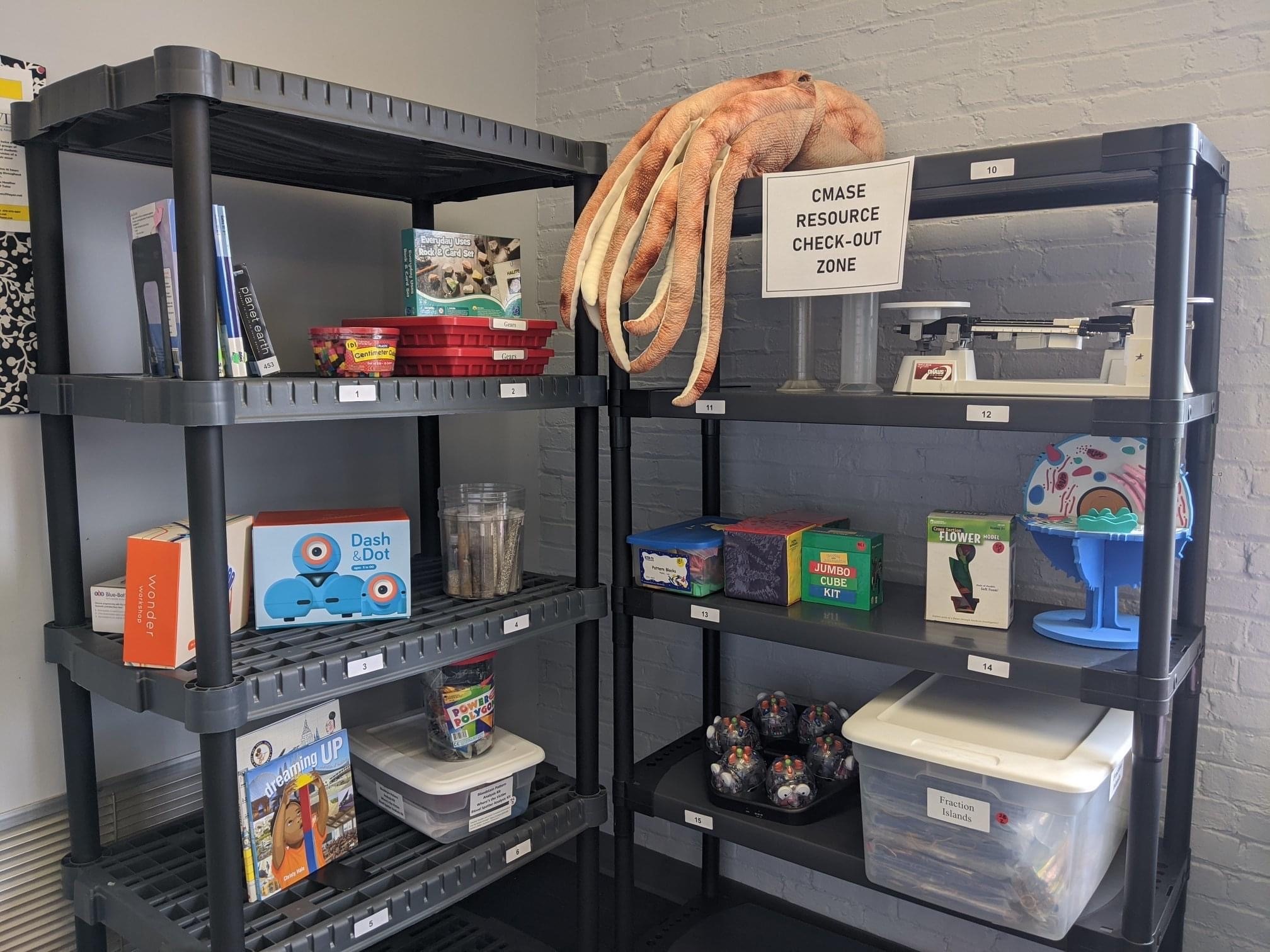 Want to check out CMASE resources? Whether you're a teacher, parent, student, or home school, we've got you! CMASE is open to the public. You are always welcome to stop by and browse the collection in person during office hours, but we offer contactless checkout and curbside pickup.
Simply call CMASE at 479-575-3875 or email us at streaves@uark.edu to put in an order, and we'll put it together for you. Need help finding the right resources? Just tell us what you're looking for, and we'll find the best fit!
All contactless orders will be stored on our new check-out shelves in the CMASE foyer (please note that masks are recommended when indoors). If you'd like to arrange for curbside pickup, we'll schedule a time and bring it right out to your car. We can do the same for any materials you need to check back into CMASE as well!
2022-23 STEM Resource Inventory
Material Load Procedure Form (PDF)
The CMASE Wiki website offers further information and educator resources.
Staff
Our Location
Center for Mathematics and Science Education
Arkansas NASA Educator Resource Center
West Avenue Annex (WAAX)
346 N. West Ave., Suite 202
University of Arkansas
Fayetteville, AR 72701
479-575-3875
Fax: 479-575-5680
Email us
Parking Map — Please park in the YELLOW highlighted spaces. Parking is free until 2 p.m. then $1 per hour after 5 p.m. Parking stations are located in each lot and next to the CMASE building. (Lot 53).
---
The Northwest Arkansas Regional Science Engineering Fair, held at the University of Arkansas each spring, is a competition affiliated with the International Science and Engineering Fair, sponsored by Regeneron.
NWARSEF finalists participate in the ISEF each May.